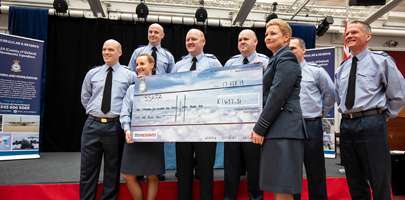 Wednesday 5th June 2019
4624 Squadron's Basic Movements Training (BMT) course graduation took a welcome twist as it combined a Squadron medal presentation.  Held in the Sergeants' and Warrant Officers' Mess at RAF Brize Norton, the ceremony recognised the culmination of nine months trade training for BMT 31.  A tremendous achievement; it marks the end of their training phases and the beginning of life on the Squadron's Operational Flights.
Designed to give students the ability to safely and competently handle RAF air transport aircraft here in the UK and around the world, this academic and practical course is the second phase of over 18 months of training, and they are now able to work alongside their Regular colleagues processing personnel, vehicles and freight for movement by air.
The Reviewing Officer, AVM Martin Routledge CB RAF (above), presented BMT 31 with their LAC rank tapes and certificates in front of friends and family. In his address he said: "The support of families and civilian employers is crucial to enable the volunteer reservist to serve and I thank you all for your dedication".
As with all Squadron BMT courses, they fundraised for charity during their training weekends, this year raising £1637.51 for SSAFA which they achieved through a variety of events including a raffle and '4624 Challenge' – a 4km run, 6km cycle, 2km row and another 4km run. Presentation of their cheque to OC 4624 Squadron, Wing Commander Bev Peart was made by Senior Student, LAC Katielyn Rutter.
Following the graduation ceremony, AVM Routledge presented Squadron medals and awards. The first was to Flight Sergeant Matt Evans who received an AOC 38 Group Commendation for his exemplary performance during Operation RUMAN. This was followed by the presentation of the Long Service and Good Conduct medal to Sergeant Kelly Matthews and corresponding Clasp to Sergeant Cam Adam.
The Volunteer Reserves Service Medal (VRSM) was also awarded on the day with presentations made to Wing Commander Bev Peart, SAC Jayne Deering, SAC Rich Burt and the corresponding Clasp to Sergeant Andy Franklin.
Another ongoing tradition which has developed on BMT courses is the competition to provide the most elaborate celebration cake – BMT 31 certainly pulled out all the stops with their magnificent confection! The personalised cupcakes for students and instructors was a nice added touch.
Combining the two presentations enabled students to meet members of the Operational Flights that they will now be joining as part of their career development; equally it was an excellent opportunity for current Squadron personnel to congratulate BMT 31 on their achievement and share in their success.
Volunteer Reserves Service Medal (VRSM) – awarded after 10 years' qualifying service in the Volunteer Reserves. A Clasp is awarded for each additional 5 years' service.
Images © Crown Copyright 2019.