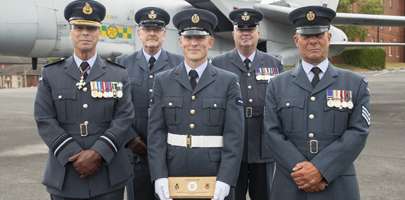 The prestigious MacRoberts reserve medal has been awarded to an A4 Force Elements reservist from 504 (County of Nottingham) Squadron at Royal Air Force Wittering.
Since 2003, the MacRoberts Reserve Medal has been awarded annually to the recruit who has, in the opinion of their peers, made the greatest contribution during basic reserve training. The award for 2021/2022 was won by Air Specialist (Class 2) David Cousins (36).
AS2 Cousins was awarded the prize by Group Captain Paul McClurg during a Graduation Ceremony at RAF Halton. He said: "AS2 Cousins displayed all the RAF's core ethos and values in abundance, but particularly service to others. Cousins was always willing to assist his peers who were struggling on a range of different parts of the course. He embodies the spirt of the MacRoberts award and is, therefore, awarded The Recruit of the Year."
Yorkshire born David is a construction manager for a company specialising in ground stabilisation, but had always wanted to join the RAF. He said: "I was completely shocked; I didn't even know there was such an award to be honest. It was one of the proudest moments of my life I had always wanted to join the RAF but broke my leg as a child so wasn't able to join as a regular. My granddad was in the RAF and I wanted to follow the family dream."
504 (County of Nottingham) Squadron was first formed in 1928 and has an impressive military history. Today 504 Squadron provides well-trained and motivated reservists to support operations world-wide. Its personnel have deployed to RAF Akrotiri, and to the Falklands, providing a range of logistics support. 504 Squadron also sends personnel to other RAF Stations and Defence sites across the UK to provide support during periods of intense activity.
Military catering is a world away from construction but, in addition to serving his country, AS2 Cousins has his eye on the future. He said: "504 Squadron have been so accommodating and so supportive, I could not ask for a better squadron. This is part of my retirement plan; join the military and eventually open a bistro. I cook all the time at home and enjoy cooking."
504 Squadron is an A4 Force Element. The A4 Force Elements are specialised, high-readiness, engineering and logistics units that support Royal Air Force operations and exercises at home and abroad.
Squadron Leader Kaye Slater commands 504 Squadron. She said: "What a great start to a career in the RAF Reserve! The MacRoberts award is not given lightly and AS2 Cousins has shown exactly the kind of selfless attitude and determination that the RAF requires from its reservists. Congratulations David."
Group Captain Nick Huntley is Commanding Officer of the A4 Force Elements. He said: "Congratulations AS2 Cousins, it is an outstanding achievement to win the MacRoberts prize. David has embraced the spirit and ethos of the Royal Air Force during his basic training and this is the result. I look forward to watching AS Cousins' career with 504 Squadron progress."
Image from left to right: Air Vice-Marshal Ranald Munro, Warrant Officer Sweeney Jarvis (504 Sqn Catering Flight), Air Specialist Class 2 David Cousins, Warrant Officer Chris Peacock, Sergeant Nicholas Woolmer (504 Sqn Training Flight). Image by Mrs Fiona Trevitt.