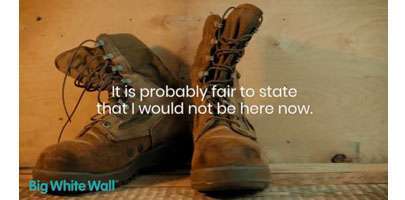 Friday 24th January 2020
Big White Wall are an online mental health and wellbeing resource available to all serving personnel, reservists, veterans and family members, aged 16+. Once registered, you'll have access to our anonymous, 24/7 community of members who help and support each other through challenging periods in their lives. In addition to our community, you have the safety and accessibility of our wall guides who are trained clinicians and are there to make sure everyone remains safe and supported.
You can take self-guided courses, tests, and read through helpful guidance and information about what you're experiencing alongside the ability to use art therapy to creatively express how you're feeling. Rest assured, our service is completely anonymised to combat any worries around stigma or judgement.
Whether impacted by social isolation and stigma, or simply restricted by geography, work schedules or caring commitments, many people struggling with mental health issues can't or won't access face-to-face services. For many, BWW affords a less daunting way to access support than through face-to-face interactions.
We know it can also be challenging supporting family members in the armed forces and there will be times where you might need a bit of help too. Both our community and clinical team are experienced in supporting a wide range of topics including; stress, anxiety, depression, relationship problems, bereavement, PTSD and loneliness to name a few. If you would like further information or to join our community for free, register and select the Armed Forces option.
This is a testimonial from one of our members:
"I am in the military and have been suffering with mental illness because of a specific issue for a little over 6 years. Whilst on active duty, I was in a very low place, and it is probably fair to state that I would not be here now, my wife would be a widow and my two daughters fatherless if it had not been for the support from the BWW staff. It only took an email from your team 'are you OK? We see you are going through a tough time, we are here if you need us' which replaced desperation, intense loneliness and feelings of utter worthlessness with a degree of hope to keep me going. I am a little embarrassed to state that I planned my suicide very carefully on several occasions, but your team and the glimmer of hope and company they gave really helped".
Big White Wall Support Network
Accessible anytime of the day or night (24/7/365)
Always moderated by Professional Clinicians
Anonymous, online peer support community
A wide library of self-management resources
Non-compulsory library of clinical self-assessments
Creative art therapy
Moderated forums and writing therapy
Structured modular courses with peer support
Topics cover wellbeing, healthy lifestyle and mental health