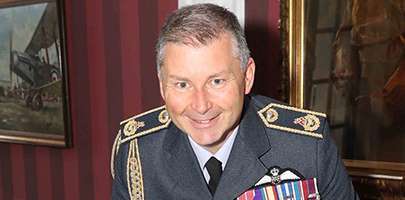 Thursday 19th November 2020
Air Vice Marshal Ian Gale MBE MBA MA, the Assistant Chief of the Air Staff, has been celebrated in the Kindness & Leadership, 50 Leading Lights list, created in association with Lloyds Banking Group and the Women of the Future Programme.
This list celebrates 50 phenomenal leaders working in the UK today; leaders who are driving change, business growth, and making a positive impact with kindness. The diverse list recognises CEOs of the most valuable top FTSE 100 companies but also rising stars and unsung heroes, including teachers and NHS healthcare champions – all of whom embody a leadership style that holds kindness at its core and that delivers results.
As Assistant Chief of the Air Staff, Air Vice Marshal Ian Gale is responsible for the strategic management, coherence, reputation and all international, parliamentary and other engagement of the RAF, plus many other special projects. He is a member of the Royal Air Force Board and a non-executive director of the UK Civil Aviation Authority. Air Vice Marshal Ian Gale has set an impactful example of allyship through his personal commitment to staff engagement and his extensive mentorship that supports individuals and groups in their development, whilst he too learns from his mentees in turn.
Air Vice Marshal Gale spoke to the Women of the Future Programme about his approach to kindness in leadership:
Why is kindness essential for a leader in today's world?
"There's not enough kindness in the world. All of us thrive when we experience a little kindness, help, mentorship and advocacy. It's good for our health and professionally to give and receive some kindness, and it doesn't cost us anything. Kindness can be the difference between happiness and unhappiness; it can be the thing that puts a spark in someone's day and you never know where that might lead."
In your experience, how does kindness make business sense?
"Kindness makes life sense as well as business sense. In the Royal Air Force, we make huge demands on our people and their families and we value the mutual support and team ethos we have. Kindness and respect for each other are key to that as they help us with our resilience, contribute to the unique bonds we have in the military and enable us to get through tough times."
Can you give us one example of kindness in leadership making a significant impact?
"Rather than one big event, this is an everyday thing – more about core values and behaviour. Helping someone to achieve their potential, calming their nerves, offering a different perspective, a shoulder to lean on, providing space for their home lives to fit with their work – these are everyday examples I see all around me that improve people's lives and happiness… and a happy team is often a more imaginative and productive one too."
Visit Kindness Rules for more information on Kindness & Leadership 50 Leading Lights 2020.