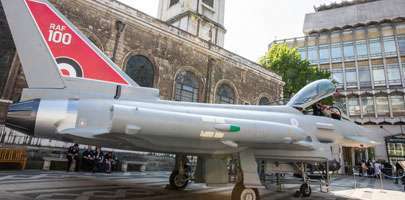 Monday 23rd April 2018
The City of London Corporation has marked the centenary of the Royal Air Force with a rare display of aircraft in the Guildhall courtyard and a reception for 600 RAF personnel.
As part of the UK-wide RAF100 celebration, City Livery companies and the aerospace industry sponsored a display of aircraft through the ages from a WW1 Sopwith Camel to the present-day Typhoon. Children and City workers were able to appreciate the role of STEM (science, technology, engineering and mathematics) in aviation and, in the prosperity and security of the UK.
The Chief of the Air Staff, Air Chief Marshal Sir Stephen Hillier said:
"In our 100th year we want to showcase the vital role the RAF continues to play in defending the British people and protecting our Nation's interests. Launched on April 1, the celebrations are a fitting recognition and thank you to the exceptional dedication, spirit and achievements of our men and women. They also encourage us to look to the future: the greatest legacy of RAF100 will be its ability to inspire a whole new generation so that together we can help shape our next century."
The Lord Mayor said:
"We are honoured to host such a fantastic display of aircraft in the Guildhall Yard. It's a wonderful sight and a rare opportunity to be able to see and learn about such planes up close.
"It's a privilege to be a part of the RAF's centenary events, celebrating the great work they have done and continue to do for our country. This is a cause close to my heart and something we wanted to be involved in to show our appreciation for all the RAF does."
A charitable banquet was hosted by three City Livery Companies: the Worshipful Company of Coachmakers and Coach Harness Makers, the Honourable Company of Air Pilots and the Worshipful Company of Engineers of the City of London. The charitable aim was to support the education and training of air cadets.
From 1 April 2018, the Royal Air Force kicked off its 100th birthday celebrations. The centenary itself will be marked by events, activities and other initiatives running nationwide from April to the end of September 2018.
There are a number of ways you can support RAF100:
Visit raf.mod.uk/raf100/ to find out more about the campaign as well as a full events calendar, which has numerous local, regional and national events to get involved in.
Show your support for RAF100 on social media during the celebrations by posting about the anniversary and sharing your pictures from events using #RAF100 on the following channels:
If you would like, you can also donate to the RAF100 Appeal, the money from which will support tens of thousands of individuals, building on the successes of the past centenary and leaving a legacy for years to come. Get involved and help raise money for the appeal here: raf100appeal.org/
Images: Crown Copyright; Credit Cpl Rob Bourne, RAF