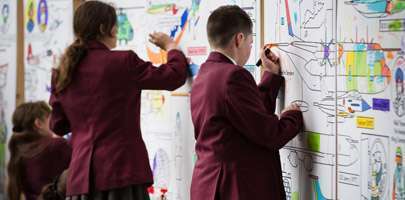 Tuesday 17th March 2020
March 2020 – The Directorate Children & Young People have issued an advice note for parents with children in UK Boarding Schools:
Parents of children in UK Boarding Schools (based both in the UK and overseas) should follow advice and guidance issued by the Government or the relevant Devolved Administration Education, Health and Social Care Departments within which the boarding school(s) and/or child(ren) are currently located (see contact details below).
If they have not already done so, parents are strongly advised to review the guardian arrangements they have in place if they are based overseas or a significant distance from the school(s), particularly if linked to planned School Children's Visits (SCVs). Identifying such guardianship arrangements remains a parental responsibility, and parents should take into account the impact that quarantine or self-isolation might have on their ability to arrange collection/return of children if that is required.
With some countries now imposing travel bans, parents should be aware of the risk of taking a child out of their current country/location and then finding that the child(ren) cannot return to school thereafter. Parents should be particularly aware of the risk this would pose to children undertaking key examinations after the school Easter break.
The Foreign and Commonwealth Office (FCO) remains the primary source of up to date information on travel.
Parents or guardians are responsible for the welfare of children attending boarding school in the UK, including during SCVs. Parents should keep up to date with guidance published by the UK Government and Devolved Administrations (see below), as well as any host nation guidance and arrangements to make decisions on SCVs.
The MOD published detailed interim arrangements for SCVs via the chain-of-command on 9 Mar 20. This information (with associated Frequently Asked Questions) should now be available from Unit HR staffs and welfare Teams, and a copy is attached to this note. Any queries related to SCVs should be made via Unit HR Staffs.
If serving parents believe they need to take additional leave in order to meet their responsibilities for the welfare of their children in UK boarding schools then they should consult their Unit HR staff on the use of Annual Leave, and/or the applicability of Special Paid Leave and Compassionate Leave.
Where parents have particular concerns over any impact on their child(ren)'s education, particularly where a child is approaching key examinations, they should contact their child(ren)'s school(s), and may also seek specific advice from the MOD Children's Education Advisory Service at [email protected] . Parents with children in UK Independent Boarding Schools may also access Independent Schools Council advice.
See also: Letter from Defence People AF Remuneration
Government and Devolved Administrations advice sites:
For England only, the Department for Education coronavirus helpline is now available to answer questions about COVID-19 relating to education and children's social care:
Phone: 0800 046 8687
Email: [email protected]
Opening hours: 8am to 6pm (Monday to Friday)
Department for Education advice may also be accessed
Image: Children taking part in an RAF Youth & Stem Programme event in Scotland.
Contains public sector information licensed under the Open Government Licence v3.0.