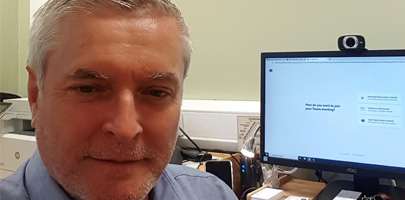 Friday 22nd July 2022
Working quietly and diligently on RAF stations around the United Kingdom are staff of the Personal Support and Social Work Service, a role provided by SSAFA, the Armed Forces charity for 32 years. One of them – Stephen Field, based at Lincolnshire's RAF Digby – has been recognised with a Four-Star Defence Intelligence award for his dedication to duty.
A qualified social worker of many years' standing, Stephen has worked for SSAFA's RAF Personal Support and Social Work Service for four years.
With no direct military experience, Stephen took on this new world of work, specifically SSAFA and the RAF, because he wanted to use his knowledge and skills when considering and dealing with a community that has unique challenges in terms of welfare support and needs.
His citation describes him as "…an integral part of the Unit's welfare team", that he has "… [applied] himself with aplomb", and that his knowledge is "simply outstanding".
Stephen said that he wanted to work for SSAFA – now in its 137th year – because "…it's one of the most longstanding and admired military charities working across the tri-service community."
Of his award, he commented: "I was really surprised – shocked, really, though very pleased – when I got the news, and didn't fully comprehend what was being publicly acknowledged and appreciated.
"However, I've come to understand how those I work with value and recognise the efforts and work undertaken across a very busy and challenging welfare landscape. I'm really grateful to the military persons I know who have instigated this award, and those within the chain of command I have never met who sanctioned this award and felt my efforts should be recognised."
Squadron Leader Julie Mann, who nominated Stephen, worked with him at RAF Digby for two years, which she describes as "an honour" and said: "He is not only a colleague, but a friend too."
Sqn Ldr Mann added: "I was impressed by his ability to connect and show empathy to a community he had not been involved in before and how the personnel on Station instantly felt the ability to look to him for advice and support.
"Put simply, Stephen is an amazing individual, not only the ultimate professional, but also a most caring human being."
SSAFA has been providing support to serving personnel, veterans, and their families when they need, how they need it, and where they need it since 1885. For more information, visit ssafa.org.uk.