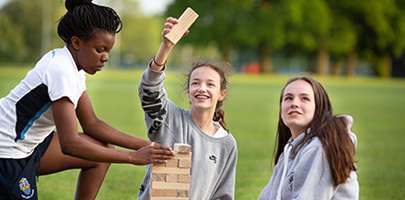 Monday 10th September 2018
Flight Sergeant Brown who Serves in the RAF, tells us of her experiences of sending her child to a boarding school and in this case, it's Ratcliffe College. Worth a read if you are considering sending your son/daughter to any boarding school but still have question marks.
"The best thing for us is that we know she is well cared for, safe and above all else, happy."
As both my husband and I were serving, we felt increasingly guilty about the amount of quality time and after school activities we were able to be involved in due to our work commitments. After collection from childcare, the inevitable homework completion and cooking and eating dinner before bath and bed, we were rarely spending any 'fun' time with our daughter. The decision to put her into a boarding school eventually came when due to deployments, detachments and assignments, she changed schools four times in nine months. We decided then and there that our career choice should not impact on her education.
Choosing a boarding school is always a daunting experience and you will have a thousand questions running through your mind. Will my child settle there? Is the standard of education sufficient? How big are the classes? And on it goes. We wanted a school that was central in its location so that I would be able to visit no matter where I was assigned and although we weren't looking for any particular specialisation it needed to 'feel' right. It's always wise to go to an Open Day to see exactly what the pupils think of it. From personal experience, we found that children are very honest when they aren't being supervised by their teachers!  We visited several boarding schools before eventually deciding on Ratcliffe College.
Our first visit was at an Open Morning and we were immediately 'assigned' a pupil to take us around the school and show us the various departments and facilities they had. This is, of course, an extremely important aspect of the school and we were impressed with the variety and inclusivity of each and every aspect, but our main focus that day was what this young man guiding us around actually thought about his own school.
He informed us about his experiences both as a day pupil and as a boarder, what he and his friends did during the weekends and what activities he was involved in. It was clear that he enjoyed his time there and it showed in his face as he told us of the varied trips out and the support he got from his friends. The most important aspect for me though, was how enthusiastic he was about his schooling and his friends there. He was well-mannered, respectful and polite but his sheer passion for his school and his enjoyment about boarding shone through in spades. After the initial school visit, the Head of Girls' Boarding showed us round the girls' boarding house and explained the various aspects of life as a boarder. It was immediately apparent how well she interacted with the girls there and how friendly and relaxed they seemed around each other. Any doubts we had about our daughter settling in were put to rest as the girls excitedly whisked her away to show her around.  She was subsequently delivered back to us flushed, excited and beaming from ear to ear.
Lauren is now in her third year and is thoroughly enjoying it. It never ceases to amaze me how dedicated the boarding staff are; how much they know about her and her aspirations and how well they interact with each other. I am always made to feel so welcome whenever I arrive to pick her up. The teaching staff at the school are clearly extremely passionate about their job and this dedication is apparent at every parents' evening. If Lauren has any issues they are always on-hand for extra tuition at lunchtimes and after school should the students request it. Her confidence in her academic abilities has grown exponentially and she is part of a sports team that plays matches every Saturday, be it hockey, netball or rounders. I am fortunate that the school is only a 50-minute drive away from my unit and I am able to watch her play whenever I can.
I still miss her in the weeks that she is at school and I'm sure she misses us.  The best thing for us is that we know she is well cared for, safe and above all else, happy.
Ratcliffe College offers 10% discount to HM Forces families and its next Open Morning is on Saturday October 6th, 9.30am – 12 noon.  All are welcome!  www.ratcliffecollege.com
The RAF FF does not individually promote specific boarding schools (including state boarding schools) however we will publish stories that promote the sharing of information, advice and general good practice.