Thursday 23rd January 2020
F-35 Lightning aircraft from 617 Squadron set off from RAF Marham today (22 Jan) on a transatlantic flight to take part in Exercise RED FLAG at Nellis Air Force Base in Nevada. The jets will initially land back at their former home at Marine Corps Air Station Beaufort in South Carolina before continuing their journey to Nellis Air Force Base.
Exercise RED FLAG is a multi-national combat training exercise which is conducted on the vast bombing ranges of the Nevada Test and Training Area. This will be the first time that the UK's F-35 Lightnings will have taken part in Exercise RED FLAG which will see them flying alongside a variety of aircraft from other nations to maximise combat readiness, capability and interoperability.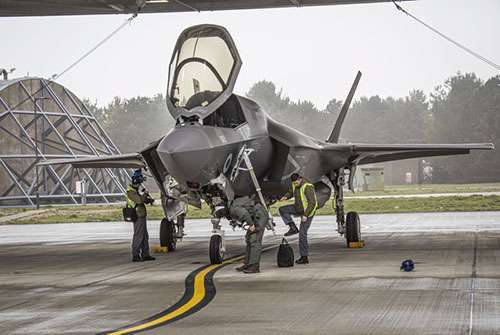 RAF Marham Station Commander, Group Captain Beck said:
"This is another first for the Lightning Force and will give the opportunity for our pilots to really put the F-35s to the test in a combat representative environment.  This training is as near to high-end operational flying as our pilots can get in a controlled environment and will really test them and the teams that support the Squadron."
Top image: Five F35Bs at RAF Marham in the UK, Norfolk, Kings Lynn waiting to taxi onto the runway on 22 Jan 2020. The planes are deploying on Exercise RED FLAG.