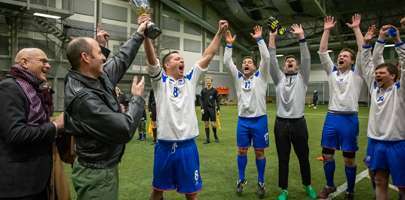 Monday 9th December 2019
A last-minute Icelandic equaliser and a nail-biting penalty shoot-out saw the Icelandic Coast Guard regain a football trophy lost to the Royal Air Force 75 years ago.
The long overdue rematch in Keflavik marked the end of the RAF's three-week NATO Air Policing mission where 1(Fighter) Squadron Typhoons from RAF Lossiemouth had been on standby to intercept any unidentified aircraft flying near to Iceland.
RAF spokesperson, Squadron Leader Peter Lisney, said:
"When we were given a photograph of the RAF's 1944 winning football team, we thought it only right to give the Icelandic Coast Guard the chance to win the trophy back.

"We have some brilliant players out here but knew it would be tough. Iceland is a land of fairy tales and we all saw one come true tonight."
After taking an early lead through a powerful long-range finish by Ashley Stott, the trophy holders dominated the first half. Just before the break, Asgeir Ingolfsson took the ball past RAF goalkeeper Khalid Daloub to draw level and keep the Icelanders in the game.
After a second half Stott scorcher and a back-post tap-in from team mate Luke Duffy, the RAF entered the last 5 minutes in an apparently unassailable position. At three-one up no one could have predicted what happened next.
Within moments of the RAF being refused a penalty that would have sealed the game, Icelander Johann Eyfeld left the British keeper no chance with his clinically placed bottom left strike. Then, with virtually the last kick of the match, Asgeir Gudjonsson's hopeful right foot shot sailed into the top right corner taking the game to penalties.
With the watching crowd's gaze fixed firmly on the two keepers, the teams entered English football's most feared decider. A nimble save from Dale Boylan's strong effort reminded the RAF of honorary Coast Guard player Stefan Magnusson's pedigree. With the score at four to three, the former Bayern Munich and Icelandic international keeper stepped up to the spot. Despite the British keeper getting a hand to the shot, he could not stop the Icelanders from snatching victory and bringing back the trophy after 75 years.
A jubilant Stefan Magnusson said:
"This is finally over. From a historical perspective when we look back, this victory will mean a lot to the team."

Imagery: ©Crown Copyright