Tuesday 7th July 2020
In this short article, Mary Petley of the Forces Pension Society focuses on the Financial Aspects of Resettlement (FAR) briefing, outlining the topics covered and why they are important in family decision making.
The FAR is a one-day course comprising of two briefings. The first, which is delivered by members of the Forces Pension Society's Pensions Team, is about all aspects of the pension entitlement; the second covers wider financial matters such as mortgages, insurances and wills.
Servicemen and women are alerted by their Service to the existence of the important briefings that are available as part of the resettlement process, but spouses and partners will not necessarily know that they could benefit from some of them too.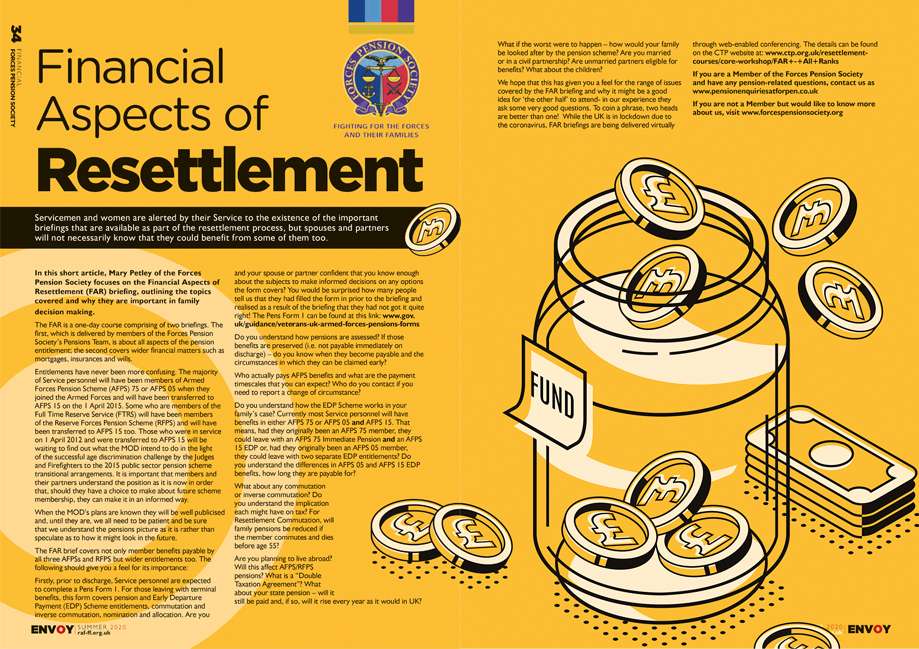 Entitlements have never been more confusing.
The majority of Service personnel will have been members of Armed Forces Pension Scheme (AFPS) 75 or AFPS 05 when they joined the Armed Forces and will have been transferred to AFPS 15 on the 1 April 2015. Some who are members of the Full Time Reserve Service (FTRS) will have been members of the Reserve Forces Pension Scheme (RFPS) and will have been transferred to AFPS 15 too. Those who were in service on 1 April 2012 and were transferred to AFPS 15 will be waiting to find out what the MOD intend to do in the light of the successful age discrimination challenge by the Judges and Firefighters to the 2015 public sector pension scheme transitional arrangements.
It is important that members and their partners understand the position as it is now in order that, should they have a choice to make about future scheme membership, they can make it in an informed way. When the MOD's plans are known they will be well publicised and, until they are, we all need to be patient and be sure that we understand the pensions picture as it is rather than speculate as to how it might look in the future.
The FAR brief covers not only member benefits payable by all three AFPSs and RFPS but wider entitlements too. The following should give you a feel for its importance:
Firstly, prior to discharge, Service personnel are expected to complete a Pens Form 1. For those leaving with terminal benefits, this form covers pension and Early Departure Payment (EDP) Scheme entitlements, commutation and inverse commutation, nomination and allocation. Are you and your spouse or partner confident that you know enough about the subjects to make informed decisions on any options the form covers? You would be surprised how many people tell us that they had filled the form in prior to the briefing and realised as a result of the briefing that they had not got it quite right! The Pens Form 1 can be found online at GOV.UK.
Do you understand how pensions are assessed? If those benefits are preserved (i.e. not payable immediately on discharge) – do you know when they become payable and the circumstances in which they can be claimed early?
Who actually pays AFPS benefits and what are the payment timescales that you can expect? Who do you contact if you need to report a change of circumstance?
Do you understand how the EDP Scheme works in your family's case? Currently most Service personnel will have benefits in either AFPS 75 or AFPS 05 and AFPS 15. That means, had they originally been an AFPS 75 member, they could leave with an AFPS 75 Immediate Pension and an AFPS 15 EDP or, had they originally been an AFPS 05 member, they could leave with two separate EDP entitlements? Do you understand the differences in AFPS 05 and AFPS 15 EDP benefits, how long they are payable for?
What about any commutation or inverse commutation? Do you understand the implication each might have on tax? For Resettlement Commutation, will family pensions be reduced if the member commutes and dies before age 55?
Are you planning to live abroad? Will this affect AFPS/RFPS pensions? What is a "Double Taxation Agreement"? What about your state pension – will it still be paid and, if so, will it rise every year as it would in UK?
What if the worst were to happen – how would your family be looked after by the pension scheme? Are you married or in a civil partnership? Are unmarried partners eligible for benefits? What about the children?
We hope that this has given you a feel for the range of issues covered by the FAR briefing and why it might be a good idea for 'the other half' to attend – in our experience they ask some very good questions. To coin a phrase, two heads are better than one! While the UK is in 'lock down' due to coronavirus, the aim is for FAR briefings to be undertaken virtually through web enabled conferencing. The details are still being worked out but, in the meantime, keep checking the CTP website.
If you are a Member of the Forces Pension Society and have any pension-related questions, contact us a[email protected]
If you are not a Member but would like to know more about the Forces Pension Society, visit them online.
This financial piece comes to you from the Summer edition of Envoy magazine.
The latest information delivered to your inbox
This story comes to you as part of the RAF FF's themed month of July, covering all things relating to financial matters. As well as our online reference section, you can keep yourself up to date with the information and advice by signing up to our free weekly eBulletin and/or quarterly Envoy magazine.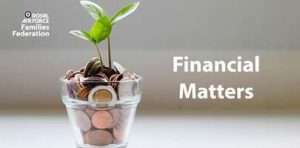 Photo by Micheile Henderson on Unsplash