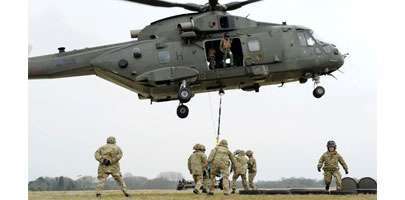 Wednesday 19th January 2022
A key feature of the Whole Force concept in recent years has been the increased use of RAF Reservists on operations, exercises, at overseas bases and back-filling gaps at UK stations. For those on Full Time Reserve Service (FTRS) the terms of service are similar to those of regular Service personnel. The majority of Reservists, however,are on Part-Time Volunteer Reserve (PTVR) contracts, and their terms are very different. The PTVR model is similar to that used by the Army Reserve (formerly known as the Territorial Army, or TA); most people on this model will have a full-time civilian job and they will undertake reserve service at weekends and through periods of mobilised service.

In order to ensure that Reservists and their families are not financially disadvantaged by such service, the MOD operates a system of Financial Assistance for Reservists when they are on a mobilisation.
Financial Assistance explained
The underlying principle of this system is that no Reservist or their family should be out of pocket as a result of their full-time mobilised service. When mobilised, a Reservist is put onto the regular service pay scale for their rank, seniority and trade. If,however,their service pay is still lower than their civilian earnings would have been, they can apply for a Reservist Award (RA). The RA is paid through the Joint Personnel Administration System (JPA) in addition to service pay,and will bring their overall earnings up to the level that they would have been had they not been mobilised. The RA is calculated as a daily rate, which is capped at £400 per day; this equates to an annual civilian salary of approximately £146,000. To claim an RA, the Reservist must be able to provide evidence of their expected civilian earnings, either through previous pay statements, or a contract of employment. The Reservist should submit their claim through their Squadron Admin Office, who will take them through the process.
Additional Allowable Expenses
In addition to the RA, Reservists can also claim allowable expenses, when they incur certain additional costs as a result of their mobilisation. This could be for the care of a dependent child or relative, the care of an animal, or additional insurance or maintenance for the Reservist's home. Such claims can only be for the additional costs incurred, and the individual will need to provide evidence to support their claim.
Pension Options on Mobilisation
Whilst mobilised, a Reservist is automatically enrolled into the Armed Forces Pension Scheme 2015 (AFPS15). They can, however,choose to opt out of this, and remain in their civilian occupational pension scheme, though obtaining independent financial advice before making such a decision is recommended. If they take this option, then the MOD will make the employer's contribution into the civilian pension scheme for the period of mobilisation, and will also deduct the employee's contribution through JPA.

The Financial Assistance system is therefore a key feature of part-time reserve service. It provides reassurance to both the Reservist and their family that they will not lose out financially as a result of undertaking mobilised full-time service.
Contains public sector information licensed under the Open Government Licence v3.0.