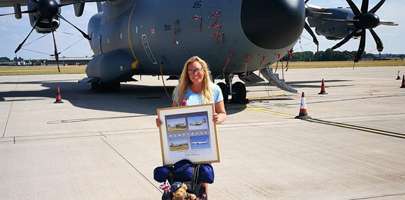 Tuesday 14th August 2018
Single RAF mum, Emma Knutzen is currently walking to every active RAF Station in mainland UK and anyone who would like to join and walk with her is welcome, or you can simply donate towards the RAF Association.
Emma started on 1st June and plans to end on 1st November 2018 and says:
"As a single RAF mum, the RAF Association has become increasingly important to me. The work they do is so exceptional and I want to help them continue the care of our service men and women, past and present.
"Whenever there is an injured airman/woman struggling to get back on their feet the RAF Association is there, or a widow of a WW2 veteran needs a shoulder to lean on they are there. They're there when a family needs support to stay strong and connected despite the separation that comes with RAF service. No one ever feels alone or unsupported with the RAF Association.
"Other things the charity do? They have supported more than 2,300 RAF children who struggle when their parent is deployed or away.
They distribute more than £1.8 million in grants to serving and ex-serving personnel.
"They also work with other charities to help homeless ex-military personnel to rebuild their lives. They are incredible and this important work needs support.
"The walk is a statement of how challenging life can be. It's going to be tough at times, but with the Association, there's always hope and most importantly help. I hope to raise significant funds to help the charity continue their selfless work."
To donate, simply visit Emma's donation page.
Emma's route
August: 14th RAF Honington, 18th RAF Marham, 24th Wittering
September: 5th RAF Cosford, 7th, RAF Shawbury, 11th RAF Valley, 14th RAF Woodvale, 17th RAF Syerston, 19th RAFC Cranwell, 20th RAF Digby, 21st RAF Coningsby, 23rd RAF Waddington, 25th RAF Scampton
October: 4th RAF Linton-on-Ouse, 6th RAF Leeming, 12th RAF Fylingdales, 26th RAF Boulmer, 28th RAF Spadeadam
November: 5th RAF Lossiemouth
Follow Emma on Twitter @walkforwings and you can get in touch with her through there as well whilst she's out walking!