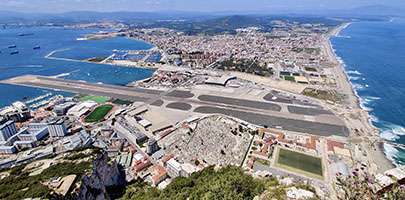 Thursday 4th May 2023
Are you considering applying for an RAF assignment in Gibraltar? Flt Lt Sarah James explains what life is like stationed at RAF Gibraltar.
When my desk officer emailed me with potential options for my next assignment, it should come as no surprise that it didn't take long to jump at the chance for an overseas tour in the sunshine to Gibraltar. Travel was one of the reasons why I joined the RAF so an opportunity like this wasn't going to pass me by.
Travelling to RAF Gibraltar
Planning to move overseas can be quite daunting whether you are married or single. I chose to drive my car to Gibraltar using the Privately Arranged Passage scheme; however, you can also opt to fly direct to Gibraltar and ship your car via Marchwood Military Port, Southampton. Driving does give you the flexibility to bring a car full of belongings with you to get you started until your shipped personal effects arrive. Whilst a car is not necessary in Gibraltar, if you want to travel further afield into Spain, then I would advise to bring a car.
The ferry crossing from Portsmouth to Santander, Spain took almost 24 hours and thankfully the Bay of Biscay crossing was very calm. I had booked overnight stops staying in Airbnbs in Madrid, Cáceres and Seville, but the journey can easily be completed in one. As I was travelling alone, the stops and rest also allowed me to see some areas of Spain I had never visited before. Travelling solo as a female felt safe and the drive was easy and straight forward, after all, getting lost is part of the fun of adventure, right?
I recall as I was on the final approach to Gibraltar and seeing 'The Rock' for the first time, thinking to myself just how majestic it looked jutting out into the Mediterranean Sea, this was going to be my home for the next three years. Gibraltar is in one of the most strategic geographical areas in the world at the southern tip of Spain, with clear views to Morocco across the Straits of Gibraltar where the Mediterranean meets the Atlantic.
Life on 'the Rock'
The iconic Rock of Gibraltar dominates the spectacular Iberian Peninsula landscape. Gibraltar is only 6.8 km² in size with a population of approximately 34,500 inhabitants and ranks number 5 on the most densely populated country in the world list, so it will come as no surprise that living here can feel cramped at times. Fortunately, with its Mediterranean subtropical climate, most of your time can be spent in the great outdoors enjoying everything that Gibraltar and Spain have to offer.
British Forces in Gibraltar
The Service accommodation in Gibraltar is split between two sites: Four Corners and Devils Tower Camp. Families are all now located at Four Corners which is a stone's throw from the Spanish border and Gibraltar International Airport. The Service Family Accommodation is a small gated community and is a mix of brand new 3-4-bedroom apartments (6 in a block) and old-style apartments which are being a block) and old-style apartments which are being refurbished internally to bring them up to the same standard as the new blocks.
Four Corners is also home to the hub of the community. HELM Point (Housing, Education, Leisure and Meeting Point) is a brand-new complex which houses the Community Centre, HIVE, Families Housing Services, NAAFI shop, St Christopher's Primary School and the Sunflowers Nursery, swimming pool, small gym and a sailing club. It is a safe area for children to play and boasts four play parks for varying ages, a tennis court and has a gate access to Western Beach.
Devils Tower Camp on the eastern side of the Rock is home to the single and military married unaccompanied personnel. DTC as (it is known), is also home to the Royal Gibraltar Regiment and RAF Gibraltar. Accommodation at DTC varies with transit blocks and permanent accommodation, which are undergoing some refurbishment such as new double-glazed windows.
At Her Majesty's Naval Base, the Gunwharf Water Sports Centre boasts many activities and courses such as water skiing, wake boarding, stand up paddle boarding, power boats, scuba diving, dinghy and yacht sailing, canoeing, kayaking, windsurfing and fishing, which the whole family can enjoy by joining the water sports club.
Life stationed at RAF Gibraltar
Life on the Rock is what you make it, with so many outdoor activities on offer and long summer days, there's no excuse not to have a go at it all. The Rock is an impressive natural playground towering some 426m above sea level.
The best part, in my opinion is the Mediterranean Steps on the eastern side. However, it is not for the faint hearted or those with a fear of heights! A sunrise hike up the Mediterranean Steps is simply breath taking and highly recommended. At the top, you will be met by the Barbary macaques which are the only wild monkey population in Europe, they are comical to watch, and it is not uncommon for a juvenile monkey to hop onto your shoulder to come and say hello – just make sure you keep a tight hold of your valuables!
One of my favourite pastimes in Gibraltar is road cycling, it is not uncommon to see large groups of cyclists meeting at the border crossing to go into Spain at the weekend, more often than not, the ride features a coffee shop half way along the route where a mass of cyclists can be found all with the same idea.
Gibraltar nightlife comes alive on a Friday night. The areas to visit include Ocean Village, Casemates Square, Queensway Quay and my personal favourite Chatham Counterguard. Like any city, Gibraltar has a bustling city centre with UK high street shops such as M&S, Debenhams and Next to name a few. Supermarkets such as Morrisons and others selling Waitrose and Tesco products can be found, and, Royal Mail post boxes and iconic red telephone boxes are also dotted around Gibraltar; it really does feel like home from home.
Gibraltar really does have it all, and with regular flights to the UK taking only 2.5 hours your family is closer than you think. My role as SO3 J1 Welfare and Community Support keeps me very busy but there is always room for that very important work/life balance to enjoy all that Gibraltar has to offer. Would I recommend an assignment to Gibraltar? Absolutely!
By Flight Lieutenant Sarah James – A feature from Envoy Winter.
For Gibraltar location information, visit our Gibraltar page, in our new Overseas reference section.