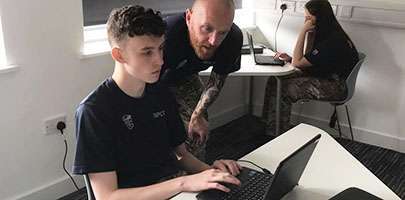 Thursday 4th February 2021
A thousand leaners at colleges across England Wales will learn about cyber safety at a special event next week (9 February).
Tuesday 9 February, is National Safer Internet Day 2021 and the 35 UK Military Preparation Colleges have joined forces with the Hampshire Police and Crime Commissioner's Office to deliver a webinar on safer internet use.
The aim of the online event is to help young people safely navigate their way through the internet and social media sites, learning to identify unreliable sites and posts and reduce their risk of falling victim to fraud.
And among the topics covered on the Zoom hosted webinar will be the reliability of targeted advertising and content posted by 'influencers.'
A guest speaker from University of Portsmouth's Cyber Crime Clinic will also give a talk on the topic of fake news and critical-thinking, to help learners make informed choices and decisions.
The Military Preparation Colleges are run by multi-award-winning training provider MPCT and provide free courses to help school leavers gain the practical and academic skills they need for civilian or military careers.
The courses are all led by ex-British Armed Forces personnel who use a combination of military and progressive training techniques to help 16-19-year-olds reach their potential.
Gary West, Head of Quality and Policy for the Military Preparation Colleges, MPCT, said:
"Increasingly the internet is not only their major source of entertainment but also where they gather factual information.
"So, it is vital they understand that not everything is always as it appears and not to believe everything they read."
Bekki Dunn, Cyber Ambassador Coordinator (Secondary Schools and Colleges), at the Office of the Police and Crime Commissioner for Hampshire, Isle of Wight, Portsmouth and Southampton, said:
"Young people are spending their lives increasingly online, even more so now during the pandemic when often their only interaction with friends takes place on social media or gaming platforms.
"At all times they are making decisions about who and what to trust online and are being confronted with content that may not be all that it seems.
"It is therefore important that they develop the skills they need to be able to navigate the complex online world."
The Military Preparation Colleges are also in the process of producing a Cyber Safety curriculum to support their learners.
To find out more about that and the Colleges in general, prospective learners and parents and guardians can visit www.mpct.co.uk or call 0330 111 3939.