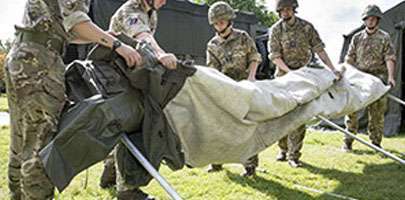 Thursday 7th November 2019
From 1 November 2019, all Regular and Reserve Service Personnel with an active Defence Gateway account were able to access the My Leave application which sits within 'More Applications' on the Defence Gateway. This new capability allows Service Personnel to administer their own leave, with greater choice in when, where and how they enter their leave.
The My Leave application is available 24/7, however the following points apply:
a. Leave must be entered more than 48 hours before the proposed leave start date. Failure to do this will mean that the leave application is prevented from being submitted via the My Leave application. Applications can still be submitted directly via JPA.
b. On initially opening the My Leave application current leave balances will be populated as 0. This is normal and leave balances will be populated following first use of the application.
c. A leave address must be entered. There is a postcode checker to assist with address entry which allows a Service Person to find a UK address. Manual address entry is possible for overseas addresses. Failure to enter an address will prevent the leave application from being submitted.
d. A contact phone number must be entered. Failure to do so will prevent the leave application from being submitted.
e. The application will not be available during periods of JPA downtime which exceed 24 hours.
f. The My Leave application does not generate a JPA workflow for authorisation. Service Personnel must ensure they have Chain of Command permission to take their intended leave prior to submission. There is a 'tick box' for the Service Person to confirm that permission has been granted for the leave. JSP 760 has been updated to reflect this and to enable the Chain of Command to take action if this is abused. Not agreeing to the tick box will prevent the leave application from being submitted.
g. Sufficient Individual Leave balance is required to process applications. Once submitted, a message will be returned if there is not enough leave to process the application.
h. It may take a few moments to process the leave application and Service Personnel should not be tempted to re-enter the application if there is not an immediate response. The Service Person will be notified whether the submission into JPA has been successful or not.
i. The My Leave dashboard will update the remaining ILA balance after the successful completion of an application. When a Service Person alternates between My Leave and JPA on a MODNet terminal, the balances in My Leave will reflect the balances at the end of the last transaction using My Leave and not balances following a subsequent MODNet submission.
j. Retrospective leave applications are not possible through My Leave.
Amendments to leave dates are not possible through My Leave.
Help
Difficulties with the My Leave applications should be addressed through the help function in the Defence Gateway.
Where the Service Person has questions about their leave balances these should be addressed to the Service Person's unit admin office.