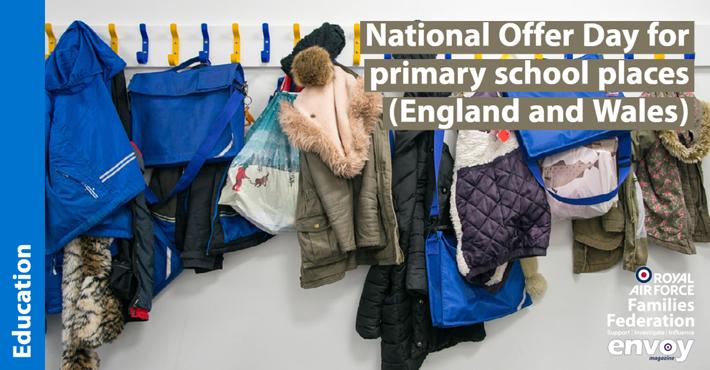 Monday 17th April 2023
It's National Offer Day: For families in England and Wales who have applied in the normal admissions round, parents/carers with children starting primary school in September 2023 will find out which primary school has offered their child a place on Monday 17 April. 
Education is a devolved matter, meaning overall policy and regulations are set by the Devolved Administrations. School admissions timelines and processes vary in different areas of the UK – the UK Government website has information and guidance on school admissions, including links to support those applying for school places in England, Northern Ireland, Scotland and Wales.
The Department for Education highlight that, for families in England, in 2022 "92.2% of families received an offer from their first choice of primary school and 98.1% received an offer from one of their top three choices". It is likely that the majority of pupils are likely to be offered at place at one of their preferred schools. However, we are aware that, unfortunately, some families may not be allocated a space at their preferred school and this can be a worrying and unsettling time.  
What can I do if my child is not offered a place at my preferred school?
The EAT provide information and guidance regarding the education of Service Children in the UK and can offer advice on school admissions and appeals. The EAT can be contacted via email at: [email protected]. 
Consider accepting the school place that has been offered to you

 
While you may feel like rejecting the school place that has been offered, we suggest you consider accepting this place even if this is not at your preferred school – this is likely to be a place in the closest school to your address with availability. If families choose to turn down the place and are unsuccessful in securing a preferred school place, the school place then offered at this time may be more unsuitable.  
Accepting a school place that is offered could ensure that you have a back-up option and a definite school place for your child. If you choose to appeal the decision at one of your preferred schools and are successful in your appeal or secure a place at a more preferred school you can then turn down the other place.  
Consider requesting to go on the waiting list of your chosen school

 
You could consider placing your child on the waiting list (sometimes called the continued interest list) of your preferred school(s) if one is operated as this is another way that school places can be gained. This may be your preferred school, but it might not be for another family or there could be families who move elsewhere between now and the date your child requires a place.  
Positions on a waiting list are prioritised according to the school's published oversubscription criteria. This means your position on a waiting list can move up and down and the person who has been on the waiting list the longest will not necessarily be offered the first place that becomes available at the school. Requesting to go on a waiting list for your preferred school does not guarantee that your child will be offered a place there so we suggest you consider alternative options. 
Take action if you wish to appeal a decision

 
If you have been unsuccessful in gaining a school place for your child at your preferred school, you could consider appealing this decision. Each council or admissions authority will have set deadlines and procedures which they will share on the relevant schools' admissions page of their website. School admissions and appeals must follow statutory processes and timescales – check these carefully taking note of any relevant deadlines.  
The Department for Education have produced advice for parents and guardians on school admission appeals in England.  
The Welsh Government have produced guidance for parents/carers on applying for school places and appealing a refusal: School admissions and appeals: frequently asked questions | GOV.WALES.  
If you decide to appeal a school place decision, it is important that you clearly set out the reasons why your child should have a place at your preferred school. You could focus on what your preferred school can offer that meets your child's needs which other schools cannot offer. You could consider highlighting what the impact will be on your child in not attending your preferred school. Please be aware that a successful outcome of an appeal is not guaranteed and, if you choose to appeal a school place, we suggest you consider alternative arrangements for if your appeal is unsuccessful. 
Consider alternative schools

 
Be prepared to consider other schools – research other schools in the area even if you may have previously discounted them. You could contact the school and speak to key staff or request a tour to see if they may be able to meet your child's needs. 
Admissions in the UK
England
School admissions in England are governed by the Schools Admissions Code 2021. Section 2.21 has guidance for admissions authorities regarding the families of Service personnel with a confirmed posting and highlights that admissions authorities must "ensure that arrangements in their area support the Government's commitment to removing disadvantage for service children." 
Northern Ireland 
For those personnel being posted to Northern Ireland, it is recommended that local advice is obtained through the Children's Education Support Officer located within 38 (Irish) Brigade who can be contacted on: [email protected] 
Scotland
The Scottish Government has produced some useful resources for Service personnel and their families moving to Scotland which includes information on applying for school places. Forces Children Education also provides useful information and resources on education on Scotland as does Forces Children Scotland. 
Further information about schools and admissions can be requested from the Education Advisory Team via email at: [email protected]. 
Wales
Admissions to schools in Wales are governed by the Welsh Schools Admissions and Appeals Code. Further information is available on the Welsh Government website, from Supporting Service Children in Education Wales (SSCE Cymru) or the Education Advisory Team. 
How can the Armed Forces Covenant help?
The Armed Forces Covenant is a pledge that those who serve or who have served in the Armed Forces, and their families, should be treated with fairness and respect. The Armed Forces Covenant Duty will not automatically secure you a place at your preferred school, but it will help in ensuring that you have been treated fairly and without disadvantage in comparison to civilian families. 
RAF Families Federation
We have information on our website about school admissions and you are welcome to contact us via the website if you need support relating to school admissions and appeals.