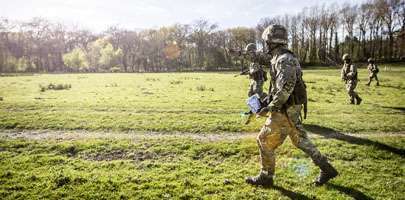 Wednesday 17th July 2019
Almost half (44%) of veterans took a year or more to fully adjust to working civilian life
New research from Openreach – the UK's largest private sector employer of Armed Forces people – has found that veterans are struggling to adjust to working life in Civvy Street, with three quarters (71%) finding the transition challenging and almost half (44%) taking a year or more to fully adjust to working civilian life.
More than 15,000 people leave the Armed Forces(1) each year and the research found that veterans spend an average of seven months out of work before finding a new career.
The research polled 250 veterans from the UK on their experiences with transitioning from the Armed Forces to civilian working life, and found that despite eight in 10 ex-servicepeople (80%) feeling employable after leaving the Forces, two thirds (68.8%) admitted to finding it difficult to see how the skills they had gained during their service would relate to a new career. Service leavers found that the hardest parts of making the transition were:
Adapting to a civilian way of life (46.8%)
Attending job interviews (40.8%)
Drafting a CV (35.2%)
Openreach HR Director Kevin Brady said veterans need the confidence to be prouder of the skills they've gained in the Armed Forces, and is calling on businesses across the UK to use a different lens when reviewing CVs, as veterans may well be underplaying some hugely important and transferrable skills as civilian candidates.
"Openreach employs more veterans and reservists than any other private company in the UK – around 4,000 in total, with more than 3,000 ex-service personnel recruited since 2011.
"Many veterans and reservists leaving the Armed Forces are likely to have never worked in a civilian job and therefore find it extremely difficult to write a CV that effectively showcases their transferable skills into the business world. Over the years we've taken a different approach when it comes to reviewing veteran CV's and we've been running a highly successful Transition Force programme, which provides feedback and mentoring to help strengthen how they showcase their skills to potential employers.
"Here at Openreach, we see thousands of veterans excel when it comes performance and delivery. They tend to climb the career ladder quickly as a result, because they're usually very organised, impeccable communicators and seem to like our big team atmosphere. They really do thrive here."
To date, the Transition Force programme, run by Openreach, has supported over 1500 veterans from all ranks, including those wounded, injured and sick, in their transition from military life into civilian employment. The programme provides career workshops, CV and pre-interview support, as well as an opportunity to network and gain hands-on work experience.
Openreach has also been the core charity partner to Armed Forces charity SSAFA since 2015. Over the last three years, Openreach employees have raised more than £150,000 for the charity.
Gary Williams, heading up the Mentoring team at SSAFA, Armed Forces charity adds:
"There are many misconceptions about service leavers, some employers may wrongly think that they are institutionalised, or simply fail to understand the value of their experience. In fact, they are disciplined, thrive under pressure and have a strong sense of duty – qualities we should be looking for in an employee. It's important that more companies mirror the support that Openreach offers veterans, by offering clear career progression, a tailored hiring process and non-judgmental guidance."
Openreach is proud to be one of the country's most proactive corporate supporters of the UK Armed Forces community, with a relationship stretching back over 160 years. Veterans or those considering a move outside of the forces can find out more about the Transition Force programme.
(1)UK Armed Forces, Quarterly Service Personnel Statistics MOD, April 2018
See also: Employment and training
Image: © Crown Copyright 2017