Calling all spouses/civil partners of serving RAF personnel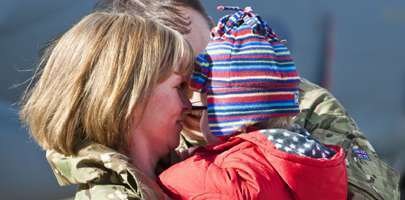 The 2019 Families Continuous Attitude Survey (FamCAS) is an annual survey which gives spouses/civil partners of serving RAF personnel the opportunity to provide feedback on what they like and dislike about RAF family life. It's an invite-only survey which will come through the serving family member – please do check if you are one of those as your views will be so important.
It closes on 26th April (paper survey) – 29th April for the online version (you'll need to use your serving family member's service number where it asks for a 'token' to access the survey).
What are the benefits of taking part?
Whilst we know that there are a number of different surveys targeted at families of RAF personnel, FamCAS is recognised by the Air Force Board as being a robust source of evidence; as such, results from previous surveys have been hugely influential and provided compelling evidence for the development of new policies to support our families. The results are also used to inform the work of the Armed Forces Covenant Team
Who should complete the RAF FamCAS?
FamCAS is aimed at married spouses/civil partners of trained Regular RAF personnel, including dual-serving couples*. To reduce survey burden the survey is issued to the minimum number of respondents required to achieve statistically valid results. The sample is stratified by rank group and location to ensure the results are representative of the entire RAF population.
*Dual-serving couples may need to try both service numbers as only one will have been invited to participate.
How can my family take part?
Selected Service personnel will receive a paper survey at their work address which they should pass on to their spouse/civil partner (whether they are also serving or non-serving) to complete. Paper surveys should be returned to our data input contractor using the envelope provided. Service personnel will also receive an email invitation at their .mod.gov.uk email address with a link to the online survey and instructions for taking part; this should be forwarded to their partner. To control access to the survey, participants are required to insert their partner's Service number in order to access the survey (Token). Responses are not linked to service personnel in any way. Participants should only complete one version of the survey (paper OR online).
When is the survey deadline?
The survey is open now and will remain open until 26th April 2019 for the paper survey and 29th April 2019 if completing online.
Problems accessing?
Please do email the team (email link below) to let the team know. In the meantime, you might like to try the following options:
The token is your serving partner's service number. There have been a few anomalies with an extra zero appearing at the front of the number so please do check that.
Depending on location, MODNET can make access incredibly slow and it might seem that you don't have access.
The survey works best in Google Chrome.
Further information
For more information please contact: [email protected]