Brand new Partner Career Support Programme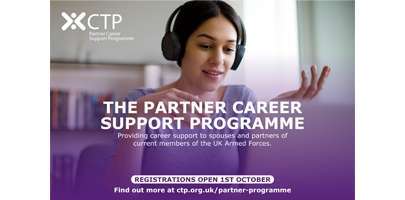 The Career Transition Partnership (CTP) is launching a brand-new Partner Career Support Programme – providing career support to spouses and partners of members of those who Serve in the Armed Forces. Applications are open from 1 October.
Whether you're already in employment, have been out of work for some time, or are based overseas and are looking to understand your suitability for a UK based role, the team can help you find a future career that suits your individual needs and experience. Better yet, the programme will be entirely accessible online, meaning you can begin planning for your dream future career, from anywhere in the world, at a time and pace that suits you.
Your support will be flexible to allow you to understand your career path options and develop the confidence to progress along your desired career path, all while still having time to meet the demands of Service and family life.
Applications for the programme (750 places) will be open from 1 October 2020 with the programme starting on 1 November for a six month programme.
Eligibility
Your Serving partner must have been in Service for at least four years and hasn't submitted a notice of termination, or isn't less than two years from ending his/her military engagement.