Discover My Benefits
This online tool helps you as Service personnel find out what benefits and allowances could be entitled to as a Service person. You'll be able to check your exact eligibility on some. Speak to your Unit HR to find out exactly what you're entitled to and how to make a claim.
Your benefit package
Answer one question about yourself to find out some of the benefits and allowances you are likely to be eligible for.
Find information on:
Your pay and pension
RAF Service benefits
Accommodation (and the Future Accommodation Model)
Relocation
RAF Families
Deployment
Food and Messing
RAF health and welfare
RAF professional development
Flexible Working
Flexible Service
Reimbursement
RAF Reserves
Leave and travel.
CORONAVIRUS UPDATE: Please go to the Updates feature to find out how the coronavirus is impacting on allowances.
Get the latest information delivered to your inbox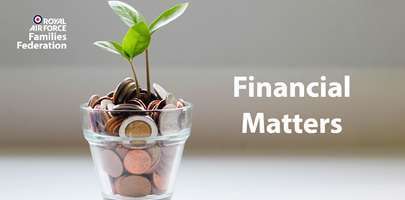 This story comes to you as part of the RAF FF's themed month of July, covering all things relating to financial matters. As well as our online reference section, you can keep yourself up to date with the information and advice by signing up to our free weekly eBulletin and/or quarterly Envoy magazine.