Ex-service men and women take steps towards a career in media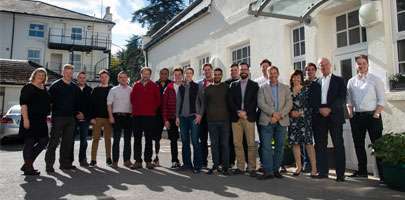 This week 15 service leavers and veterans will embark on a free, full-time one-year Higher National Certificate (HNC) Creative Media Production Course, provided by the Forces Media Academy.
After a very successful inaugural year with a 100% pass rate, and over 70% of the course achieving at least a Merit or Distinction, 80% of leavers went on to media roles as reporters, digital producers and independent film makers. The Forces Media Academy is now opening its doors once again for the second academic year.
Part of military charity SSVC, the Forces Media Academy has been designed to offer 15 ex-service men and women with the training, experience and qualifications they need to forge successful careers in videography, digital, TV, radio or Marketing and PR. It is the only course of its kind in the UK and is designed to give veterans the opportunity to find rewarding careers in creative industries in which they have historically been underrepresented. The Academy is supported by its principal charity partner, The Royal British Legion, which provides each student a bursary of £18,000 to help with living costs.
The course is taught at SSVC's headquarters in Buckinghamshire, and as it is the parent company of the British Forces Broadcasting Service (BFBS) and Forces TV, the students have the opportunity to work in a live media environment, with award-winning media teams alongside the programme of lectures.
Work experience and practical skills feature heavily in the course, which includes modules such as: Camera and Lighting Skills, Film and Video Editing, Promo Video Production, Contextual Studies, Research Techniques, Practical Skills for Moving Image Production and Marketing and PR. In the last academic year, all students were offered two work experience placements within media organisations such as Sky Sports, Scottish Television and ITV.
Derek Derenalagi, originally from Fiji who now lives in Watford, joined the British Army in 1999 and is one of the 15 selected for this year's course. In July 2007 he was on a tour of duty in Helmand Province, Afghanistan, when his vehicle was hit by an improvised explosive device (IED). On the return to Camp Bastion he was actually pronounced dead, but back at the hospital medical staff found that he still had a pulse.
As a result of the injuries he sustained, both of his legs were amputated above the knee. While he was in a coma, Derek was flown back to the UK where, nine days later, he woke up in Selly Oak Hospital, Birmingham.
Derek went on to pursue athletics as a professional Paralympic discus thrower and in 2012 was selected to represent Great Britain at the Summer Paralympics as part of a 49-member squad for athletics. He competed in the men's F57–58 discus event.
Derek states;
"I am so pleased to be accepted on this course, because I'm keen to learn how I can use the media to tell the untold extraordinary stories of injured servicemen women and disabled people in the UK and around the world."
I think that making the transition from the military to the media industry is quite exciting and challenging because media is totally a new area for me."
Forces Media Academy Director, Alistair Halliday, said:
"After the success of last year's Forces Media Academy, I am delighted to be welcoming this year's intake of service leavers and veterans. This course is a perfect fit for those with an interest in, and aptitude for, the media. It will equip them with skills for a range of roles such as a producer, multimedia journalist, and content creator."
The Forces Media Academy is part of the Services Sound and Vision Corporation (SSVC), which has a proven history of media production with long-established and close links with the media, digital, and broadcast industries. Last year the Academy was able to successfully harness these to set up high quality work experience with media organisations such as Sky Outside Broadcast, Tonic Productions MoD, BBH and service charities – ultimately enhancing the ability of the students to get a good job afterwards."
We are most grateful for the support of charities and companies, in particular The Royal British Legion, which has most generously provided the bursary."
The Royal British Legion's Head of Grants and Social Policy, Steven Baynes, said:
"The Academy's work is innovative and practical, building on the existing and highly transferrable skills of those who serve in HM Armed Forces. We're eager to follow the first cohort's progress, and proud to provide bursary funding to make the course accessible to as many future media professionals as possible."
For more information and to apply for the course in September 2019
See also Training and qualifications