Help the MOD shape the future military accommodation maintenance contract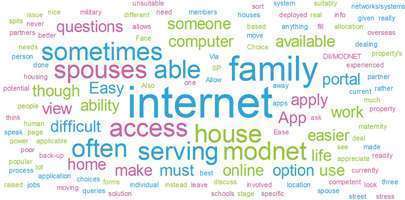 This story's image shares the key words from just over 500 of you who have completed the online SFA Housing Survey that is live until 30th November. Thank you to those of you who took out 10 minutes of your day to share your thoughts. If you are currently serving as a regular member of RAF personnel, or you are a family member of – please keep those comments coming in. It doesn't matter if you aren't living in SFA. All input counts!
RAF FF Director, Maria Lyle adds: 
"The Future Defence Infrastructure Services (FDIS) is the project to secure the next accommodation maintenance contract by DIO SD Accn within the next 2 years. This survey is your opportunity to help shape that contract, so please let us know your views."
You don't have to live in SFA to comment
Your views and comments will still be helpful to those producing the contract. Especially those of you who live in the private rental market where you will also work to a maintenance contract and can share good practice examples.
Is this part of the Future Accommodation Model (FAM)?
Whilst this is a housing-related survey, this particular work is focusing on the mechanics of the current housing contract and not directly part of the work being undertaken towards FAM. Information on FAM, its aims and who it may affect can be found online at GOV.UK
Experiencing a housing issue?
If you currently live in SFA and experiencing problems with your property by using the procedures already in place, please report an issue to the RAF FF where our SFA housing specialist can offer advice.
The RAF FF also has its own housing section online for reference.
A tri-service survey
Equivalent surveys are being run by the Naval Families Federation and the Army Families Federation.