Joint Service Housing Office Update on the Forces Help to Buy Scheme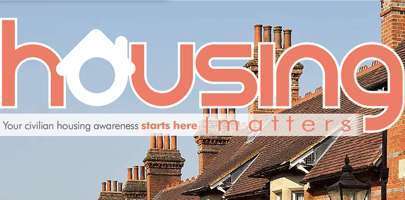 The Forces Help to Buy scheme has lent over £280 million to over 18,000 armed forces applicants since its introduction in 2014.
The scheme allows military personnel to borrow a deposit of up to half of their annual salary, interest free, to contribute towards buying a home, building an extension on their current one or moving to another property.
The programme has proved popular amongst service personnel and will now be extended for a further three years.
The Forces Help to Buy scheme was set up to provide more flexible support to personnel by offering a larger advance of salary to facilitate a home purchase.
Defence Secretary Ben Wallace said:
"The extension of this scheme demonstrates the value we put on our Armed Forces and means service personnel can continue to realise the ambition of owning their own home or borrowing to extend.

"It has already proven very popular amongst the Armed Forces community and by extending it further we will be able to help many more service personnel make those first steps on the property ladder or expand their home to fit their family."
Minister for Defence People and Veterans Johnny Mercer said:
"The extension of the Forces Help to Buy Scheme is fantastic news for all those wanting to take that first step on to the property ladder.

"The Scheme helps to provide stability for our Armed Forces personnel and families, as a thank you for their commitment to their service for this country."
Future Accommodation Model (FAM)
Last month the MOD announced the official launch of the Future Accommodation Model (FAM) pilot, which was rolled out at HMNB Clyde. FAM will provide financial support to service personnel at HMNB Clyde who want to rent or buy a home within a 50 mile radius of the Base, giving personnel more choice where and with whom they can live. The RAF pilot will take place at RAF Wittering from the end of May 2020.
The scheme forms a part of the Armed Forces Covenant, which is a promise from the nation that those who serve or who have served, and their families, are treated fairly and not disadvantaged.
The MOD also sub-lets some surplus vacant houses to the general public to generate income through short term lets on the private market. The properties are rented at market rates and are available at 60 sites.
General
The FHTB scheme is primarily designed for first-time buyers or those needing to move to another property, either because they are assigned elsewhere or as a result of certain extenuating family or medical circumstances. A property for which FHTB has been claimed must be intended for the Service person's own immediate occupation, or that of their immediate family. An exception to this applies to those in overseas postings at the time of application and purchase. It is not intended for the purchase of 'buy-to-let' properties or any other second property, but under certain circumstances can be used to extend or modify an existing property.
FHTB is not related to other Government funded Help to Buy schemes but can be used in conjunction with the Government's Help to Buy Schemes (Equity Loan and Shared Ownership), Help to Buy (Scotland) and Help to Buy (Wales).
Entitlement
Applicants who meet all the applicable eligibility and qualifying criteria within JSP 464 will be permitted an interest free FHTB advance recoverable from pay and, if necessary, terminal benefits. The amount of the FHTB approved will be limited to either 50% of gross basic pay including all forms of Recruitment and Retention pay, but not allowances; or £25,000, whichever is lower.
The FHTB advance may be capped when used if an applicant sells an existing property to buy a new one, depending on the amount of any capital realised from the sale of the previous property.
Existing LSAP recipients applying for a FHTB advance will be subject to a cap depending upon the outstanding balance of the previous LSAP loan. For LSAP policy, refer to JSP 752, Chapter 2, Section 4.
Entitlement to Service Accommodation
Personnel assigned with their immediate family to an area within 50 miles of a property which they have purchased or extended with the aid of a FHTB advance (whether designated as a RWA or SPR) are disqualified from occupation of SFA / SSFA or SLA, except in certain circumstances.
Applying for Forces Help to Buy
Service Personnel are to apply for Forces Help To Buy (FHTB) on JPA through the Self Service Application for FHTB. Full instruction on completion is on line in the JPA Self Service User Guide – Applying for Pre-Approval for FHTB.
In exceptional circumstances only, where the individual has no permanent access to JPA, the JPA Form E035 may be used – and forwarded to DBS Mil Pers FHTB Section at least 6 weeks before the expected purchase completion date.
Repayment of the FHTB will be determined by a variety of circumstances.
Relevant Authorities
| | |
| --- | --- |
| Defence Business Services Military Personnel FHTB Section, Centurion Building, Grange Road Gosport, Hants PO13 9XA | Tel: Internal – 94560 3600 Option 4 External – 0141 224 3600 Fax: Internal – 93844 2828/ 2506 External: 02392 70 2828/2506 |
Source and imagery: JSHAO