RAF Apprenticeships celebrates its centenary 1920-2020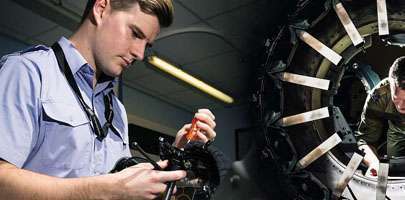 In 1920, the first entry of RAF Aircraft Apprentices arrived at RAF Cranwell to start on what was then a very innovative three-year scheme of technical training. This was the brainchild of the 'Father of the RAF' Lord Trenchard, the first Chief of the Air Staff when the RAF formed in 1918, who was acutely aware that the success of the Service required a solid corps of highly skilled specialist airmen engineers equipped to meet the continual, fast evolving aeronautical technologies and imbued with an aviation ethos by 'in house' training. No1 School of Technical Training was established to deliver this vision and a dedicated training facility was constructed at RAF Halton into which the training relocated in 1922. In parallel, apprenticeship schemes were established for Wireless Operator/Mechanics and Electrical and Instrument Makers and far-sightedly, an apprenticeship scheme for training administrative clerks.
Without doubt, it was those early apprentices whose experience and expertise were crucial to the RAF's ability to overcome the challenges it faced to expand and win the air war during World War 2. Today apprentices are as vital to the RAF's capabilities as they have been throughout their hundred years of history. The Service, RAF Apprenticeships and its apprentices maintain the tradition and excellence by continuing to deliver high quality specialist tradesmen capable of enabling today's Service to operate worldwide. One of the Nation's largest apprenticeship Employer-Providers, we are confident that we offer our next generation a World class opportunity that is second to none for their service career and beyond. Spanning 23 different trades, at any one time there are 3000 apprentices on programme, with a further 150 participating in Army led schemes, with an overall successful achievement rate of 98%.
RAF Apprenticeships have been rated as 'Outstanding' by Ofsted who noted that the RAF had "created a positive culture for apprenticeship training that is working well. Apprenticeships are now seen as the backbone of the RAF's approach to developing its younger staff and recent recruits. Apprenticeships are well understood and highly valued by leaders at all levels in the Service and by apprentices themselves." In apprenticeship trades, 99% of personnel up to the rank of corporal are apprentices or ex-apprentices, which greatly reinforces this understanding of the workplace managers as people progress in their careers.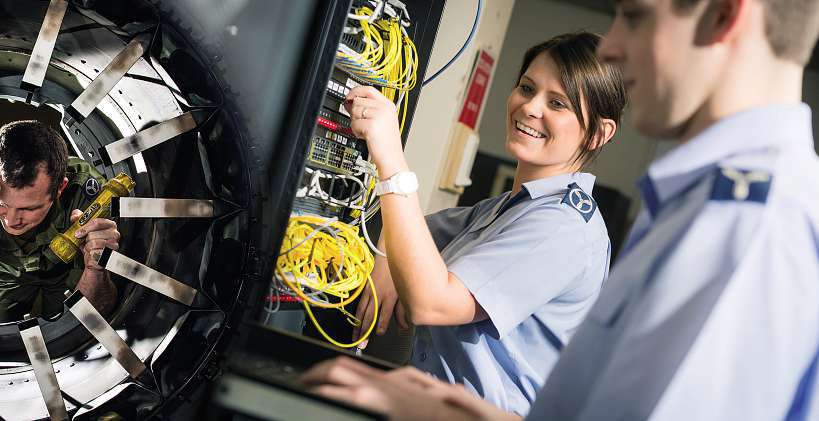 The apprenticeship programmes delivered are identified in consultation with Branch and Trade Advisors to make sure that they align to Service workplace requirements rather than having to adapt training to achieve accreditation. To do this, nominated RAF trade experts work alongside civilian employers in 'Trailblazer Groups' which develop the national Apprenticeship Standards to assure that the apprenticeships the RAF offers are achievable within both initial trade training and the RAF workplace. Moreover, as each Standard is not 'military specific', but matched against wider civilian industry jobs, our apprentices gain long-term employability opportunities.
Some trades require entry qualifications, but others have few or no requirements allowing opportunities for people with underlying aptitude to succeed and realize their potential through completing an apprenticeship. Each apprentice is provided with bespoke individual support from enlistment to completion – those without the English and Maths qualifications needed for their apprenticeship are tutored to gain them before proceeding forward. Apprentices undergo between 3 – 18 months fulltime training at a Training Schools, learning the skills of their trade before moving on to their first posting where they reinforce their training by 'hands on' experience to achieve final competence. Each apprentice is assigned a uniformed mentor/assessor during their workplace phase who reviews them at 12-week intervals and provides ongoing support and advice, managing the delivery of the apprenticeship in the workplace.
As a brand, RAF Apprenticeships are well known and are a key part of the RAF's 'offer' to potential recruits. In comparison to their peers in civilian life, RAF Apprentices are well placed. They are full-time Servicemen/women who are not differentiated from the rest of the workforce in any way, receiving full pay (as opposed to the National Apprenticeship Wage) and all remain in employment on completion of their apprenticeship. Moreover, the completion of an apprenticeship is the start of the opportunities for through career professional and personal development, with many apprentices achieving higher ranks as both airmen and officers.
The RAF Apprenticeships Scheme is recognised as a model to follow and works with major companies to mutually maintain and develop the quality of each other's apprenticeship programmes. The RAF is listed in the National Apprenticeship Service's Top 100 Employer List and was the winner of the Macro Employer category at the 2017 National Apprenticeship Awards (pictured above). In 2019 it was named 'Apprenticeship Employer of the Year' at the Annual Apprenticeship Conference Awards. Moreover, at the World Skills Competition, Sâo Paulo, Brazil in 2015, SAC Shayne Hadland representing UK was awarded a Silver Medal in the Aircraft Maintenance Competition.
For further information about the opportunities available visit raf.mod.uk/recruitment/apprenticeships
Imagery © Crown Copyright
This article is included in the Spring edition of Envoy magazine – the free magazine for RAF personnel and your families too. You can sign up online to have your own copy sent to your home (quarterly).