Share your concerns with the RAF FF re COVID-19
The RAF Families Federation wants to hear what concerns you have as both RAF personnel and also your connecting families in relation to life in the RAF during COVID-19.
Some have shared concerns re returning from postings and overseas deployments to families at home in lockdown; particularly with those with vulnerable or at risk family members.
Others are in temporary accommodation whilst waiting for the SFA to become available and then we have been asked if there are any tips on self education ideas for families. So do keep talking to us so we can source the right support and advice to share with you.
Our online Coronavirus section is changing daily so worth keeping an eye on:

Keep in touch
For weekly eBulletin updates of general news in the RAF and Armed Forces, simply sign up free of charge online and we'll drop into your inbox once a week (no catch and no extra marketing contact).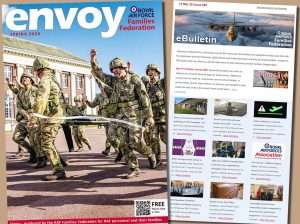 You can also have Envoy magazine sent directly to your home at no charge, once a quarter, wherever you are in the world too.
Or follow us on Twitter, Facebook or Instagram