The RAF Association is Taking Off – Jump On Board!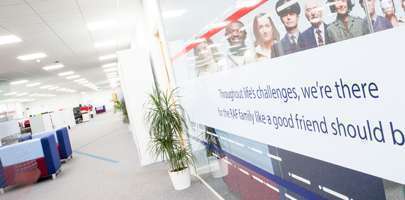 It's exciting times at the RAF Association's HQ in Leicester – they are reaching for the stars with a huge fundraising and marketing recruitment drive. Could you be part of something momentous?
The RAF Association is the charity that makes sure serving and veteran RAF personnel (and their families) get the support they deserve – and demand for its welfare services is growing. That's why the team need brilliant people like you to help them reach more people and to increase  fundraising income from £8 million to £13 million in the next five years.
This is a once-in-a-lifetime opportunity to create and implement clever strategies in a respected charity that's supported by over 72,000 members worldwide.
Head of Brand and Marketing, Scott Lea said: "We value our staff and we'll treat you well. You'll be working in a modern, open-plan office with great transport links just outside of Leicester. We'll give you an attractive benefits package, with 10% employer pension contribution, 36 days holiday and flexible working hours. In fact, there's also free hot drinks, including mochas and lattes, and an employee social committee. There's a lot to like."
All the latest jobs are on the RAF Association's website, but here's an idea of some of the roles that need filling right now: Corporate Partnerships Manager, Trusts Officer, Supporter Insight Manager, Brand Marketing Officer, Events Co-ordinator, Donations Administrator, Communications Officer, Digital Marketing Manager, Digital Marketing Assistant.
If you're one of the stars RAFA is reaching for, they want to hear from you. Find the job you want, fill in an application form and send it to [email protected]. If you want a talk, call the HR Team on 0116 268 8754 or e-mail [email protected].
Good Luck!