Universal Credit for SFA
Universal Credit is a single award paid monthly, which has been introduced to replace the following benefits:
Housing Benefit
Child Tax Credit
Income Support
Income-based Jobseeker's Allowance (JSA)
Income-related Employment and Support Allowance (ESA)
Working Tax Credit
If you live in Service Family Accommodation (SFA) or in the Private Rented Sector and are liable to make payments of rent, you may qualify for support with your housing costs in Universal Credit. Support is also available in Universal Credit for those with a mortgage.
To apply for housing support in Universal Credit, you will need to provide evidence of your liability to pay rent (the licence agreement) to your work coach together with evidence that you are living in the accommodation (such as a utility bill or bank statement).
Work Coaches and armed forces champions have been provided with specific guidance to further support Service personnel and their families in claiming Universal Credit.
You can find out more about Universal Credit and how to apply on GOV.UK or alternatively visit Universal Credit and You for an introduction to new claimants.
If you're already receiving benefits around coronavirus, GOV.UK can also help.
Get the latest information delivered to your inbox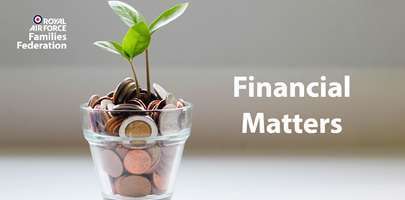 This story comes to you as part of the RAF FF's themed month of July, covering all things relating to financial matters. As well as our online reference section, you can keep yourself up to date with the information and advice by signing up to our free weekly eBulletin and/or quarterly Envoy magazine.