Thursday 30th May 2019
Contact houses for personnel and their families at two RAF stations in Oxfordshire have been increased and updated thanks to a charity.
The Royal Air Forces Association, which supports the RAF family, has redecorated eight of the contact houses at RAF Brize Norton, and helped RAF Benson to increase its contact houses from two to three.
The houses can be used for many reasons, including by families of personnel who are receiving hospital treatment or personnel who need family support during deployments.  They are a vital asset, especially for families with children.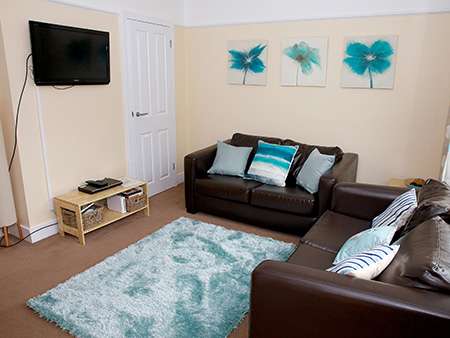 Since he and his wife separated, the time Corporal Neil Livesey gets to spend with his two young sons is even more precious. Thankfully, because of the contact houses at RAF Brize Norton, they can stay with him for days at a time.
He said: 
"My boys love it when they stay here with me at the weekend, they always ask if they're going to come to 'Daddy's House'. It's a godsend for me, and it means my wife can have time off too. I've also used contact houses when my parents have come to visit." 
Each contact house is fully furnished, with fixtures, fittings, utensils and other essentials for individuals and families. Contact houses at RAF stations are in use constantly, with bookings taken months in advance.
Flight Sergeant Jane Corban, Community Support at RAF Brize Norton, said:
"The contact houses here are an integral part of the welfare provision for our personnel and their families. The homes are readily available to all serving personnel who may require them.  
"We are extremely grateful to the RAF Association for redecorating the homes. We endeavour to create a 'home from home' environment for all who use them. As well as the redecoration, soft furnishings have been updated to make them more welcoming for our families."
Ailsa Gough, South East and Eastern Area Director of the RAF Association, formally handed over the keys to the new contact house at RAF Benson, named Bartlett House, to the Station Commander, Group Captain Adam Wardrope, in May.
Group Captain Wardrope said:
"We are delighted to open a third contact house. With personnel currently committed to operations around the world, it's essential that we can provide support to them and their families. 
"We are extremely grateful to the RAF Association for helping us to extend these popular facilities to provide welfare support to even more personnel.
For more information about the RAF Association
Top image Corporal Neil Livesey in garden of contact house
See also: Military support organisations