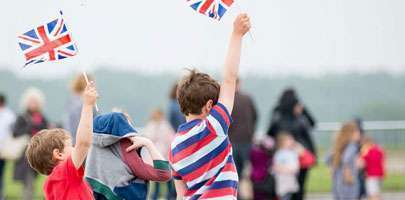 Wednesday 10th October 2018
by Tor Johnson, RAF FF Project Manager
In June 2017 we launched our Dispersed Families project, looking at the experiences of RAF families who live away from their parent unit. With the project now past its halfway point, I would like to share our progress so far.
In my role of Project Manager I have met with a wide range of stakeholders from the RAF, MOD and military charities, and have collected views from dispersed families through various means. I would like to give our thanks to all those who I have met and who have participated – without you sharing your views and experiences we would be unable to make any meaningful recommendations for change. It has been really rewarding to meet so many of you all over the country, and interesting to discover that you are well and truly dispersed!
Connecting with YOU
One of the key elements of our project was to connect with dispersed families and to gather their viewpoints. We did this through interviews with 30 family members and our online surveys, which received 401 complete responses. We were delighted with the response and as far as we can tell this is the highest participation level for any UK study into military dispersed families. Participants included:
Regulars and Reserves and their families
Married couples and those in long term relationships
Home owners, renters, and families in dispersed SFA locations
Families with and without children
People of a broad range of ages and ranks
In addition we also ran a Community Support Team survey, with teams from a number of RAF stations providing their views. This survey aimed to identify existing good practice in supporting dispersed families, and any potential barriers that may currently exist in doing so.
What YOU told us
The experiences of families varied considerably, depending on a range of factors such as distance from the station, engagement, marital status, children, and level of family separation. However, some common themes have been identified.
Why are families dispersed? The most common reasons given were:
Home ownership (70% of survey respondents were living in their own home)
Stability for the family in the current location
Stability for children in education
Spouse/partner's employment or training
Avoiding frequent house moves
Some common factors in the choice of location were:
A known area – near to current or previous station
Employment opportunities for spouse or partner
Commutable distance to several stations to provide future posting options
Proximity to family or friends for support
Our forever home – preparing for eventual transition from the RAF
Are there benefits to being dispersed? The most common benefits discussed by participants were:
Home ownership
Family stability
Stability of education
Friendships for children
What issues were raised? Some of the main issues raised were:
Impact on family life
Increased stress and pressure as a result of family separation and long-distance commuting
Accessing support from the RAF
Lack of ID cards ('dependents' cards), preventing access to facilities and support
And, a lack of understanding of military life within the civilian community
More detail will be available in our interim report available later this month.
So what next?
We will shortly be meeting with representatives from the RAF, MOD, and RAF HIVE to discuss our full findings and to formulate an action plan for the coming months. If gaps are identified in our evidence then we will run some short and quick surveys to address these.
Staying in touch with us
If you are part of a dispersed family then please remember we are here to offer advice and help. In addition, if you have any specific issues or observations you wish to raise either now or once the Report is published, we would love to hear from you.
You can do this via:
We also continue to keep our project webpage up to date with relevant links and information, and of course you can subscribe to the eBULLETIN to get a weekly news digest and stay in touch with all of our work.
This article is part of the Autumn edition of Envoy magazine. If you'd like to receive your own quarterly copy of Envoy, it's free. Simply sign up online.