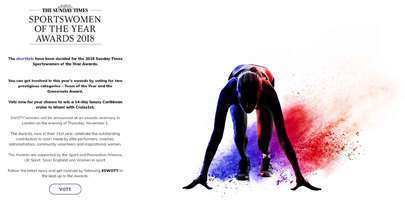 Wednesday 10th October 2018
We are very proud to share that our very own RAF FF team member, Dani Robertson has been shortlisted for this year's Sunday Times Sports Award and we would love you to vote for her in winning the Grassroots Category!
This section of the Awards is for individuals who have actively engaged with different groups of people within their community through sport. In her own time, Dani has set up an online network called 'Surf Senioritas' which is aimed at encouraging women of all ages, backgrounds and abilities to get on their surfboards; a group which has now grown to just over 3,000 members!
The winners of the Lifetime Achievement Award and the Helen Rollason Award for Inspiration will be announced at the awards ceremony on Thursday November 1 in London so please vote soon!
Dani's day job is working for the RAF Families Federation as a Regional Covenant Manager for Wales, the West and also currently Scotland and the north of England helping ensure that RAF personnel and their families are supported through the work of the Armed Forces Covenant.
Whilst you vote for your favourite Grassroots Award nominee, you will also be in for your chance to win a 14-day luxury Caribbean cruise to Miami with Cruise1st.
Join Surfing Senioritas
Facebook or Twitter @surfsenioritas