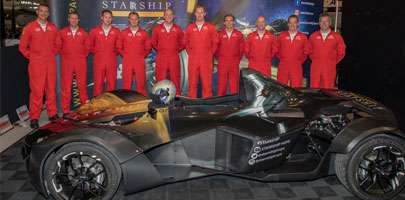 Thursday 18th October 2018
London, 6th October 2018 – The Royal Air Force has partnered with Briggs Automotive Company – creators of the BAC Mono supercar – to launch a competition for aspiring engineers in the UK.
The RAF and BAC are challenging 16-25 year olds, living in the UK to design a Mars Transport Vehicle. The winning design will be made into a 3D model and the entrant wins a week's work experience at the BAC Mono factory in Liverpool – home of the world's only road-legal, single-seater supercar. There are 10 additional prizes, including tours of an operational Typhoon Squadron and tours of the BAC Mono factory.
The competition launched on 22nd September 2018 at Duxford Air Show with the Red Arrows, the RAF's aerobatic team. The RAF also partnered with YouTube channel, Real Engineering to raise awareness with online audiences who may not traditionally engage with the RAF. Real Engineering's video about materials science and tyres on a Mars Rover vehicle has already accrued over 2 million views.
TIME IS RUNNING OUT!
Entrants have until noon on Sunday 21st October to submit their designs. Entry forms and more information.
Air Vice-Marshal Sue Grey, head of the RAF's Engineer branch, said:
"As we mark RAF100 and reflect on the achievements of the Service, our history has shown us that from early aviation to space, scientists and engineers will always be first to the future".
Squadron Leader Pieter Severein, of RAF Engineering Specialist Recruitment, said:
"This competition has allowed us to promote the role of Cyberspace Communications Specialist through getting the entrants to think about how we would communicate with a vehicle on Mars. Communications seems to always be forgotten when you start designing something like a rover vehicle, but without Communications, nothing happens. Hence why the Cyberspace Communications Specialist role is at the heart of everything we do and nothing 'starts' without them. And for this reason we are offering such an amazing prize to come and see the work the RAF do first hand."
BAC Co-Founder and Design Director, Ian Briggs, said:
"We are absolutely delighted to be playing a part in STARRSHIP, which is a truly fantastic project that will encourage youngsters to have a great interest in the world of technology. Joining forces with the RAF is an honour; we want to inspire the next generation and gave them a project to savour. It was also great to introduce youngsters to Mono at the Show and welcome a new wave of Mono fans to the BAC Family."
Top image: Day 2 of the Duxford airshow with the pilots meet and greet in the aerospace hangar.