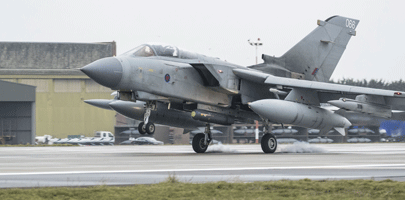 Thursday 14th February 2019
A Royal Air Force navigator from RAF Marham has become the first person in history to log over 6000 hours flying in a Tornado fast jet.
Flight Lieutenant Chris Stradling 55, who is known as 'Stradders', was one of the aircrew that flew the Tornados recently to RAF Marham from RAF Akrotiri in Cyprus.  This sortie followed the Tornados last operational sorties in the fight against Daesh earlier this year.
Chris achieved the 6000 hours milestone during the flight from Cyprus to Marham whilst flying over southern France.
He said:
"It's quite humbling really.  It's been a lot of hard work and time away from home, but I have also been extremely lucky and had an awful lot of help from a lot of people over the years to enable me to get there.
"My current boss has been brilliant and has certainly helped me to put a large dent in the hours. If it wasn't for him and several other members of the Tornado Force at RAF Marham I probably wouldn't have got close".
Stradders joined the RAF in April 1984 and after undertaking various flying courses was first posted to 17 (F) Squadron which was then based at RAF Bruggen.  The squadron was at this time was a part of RAF Germany the UK air contribution to NATO during the Cold War.
After eight years in Germany, he then moved to RAF Lossiemouth in Scotland where he spent the next 21 years, first as an instructor on XV(R) Squadron before returning to frontline flying with 14 Squadron and the famous 617 Squadron, "The Dambusters".
Chris was posted to RAF Marham during May 2017 where he flew firstly with 12 Squadron before joining 31 Squadron.

Reflecting on his RAF flying career of over 30 plus years, Flt Lt Stradling said:
"Your first tour is always a highlight.  Flying sorties over Germany as a 24-year-old Flying Officer – I remember that being quite a buzz."
Stradders has spent many years deployed around the world.  He has taken part in numerous air operations including the First Gulf War, and the subsequent air operations over southern Iraq enforcing the UN no fly zone.  He subsequently flew on operations as part of the coalition over Iraq and Afghanistan and most recently has taken part in the Coalition operations over Syria and Iraq directed against Daesh.
It took 31 years flying on the aircraft to achieve the 6000 hrs milestone and to date Stradders is the only person from the nations who fly the Tornado – UK, Italy, Germany and Saudi Arabia, to break the 6000-hour mark.  "6000 hours on any fast jet is not common and to be the first person to do so on Tornado is a real sense of pride", he said.
After the Tornado is retired from RAF Service in March, Flt Lt Stradling will undergo training before his next posting.
Top image: A Royal Air Force Tornado GR4 arrives back in the UK at RAF Marham having flown from RAF Akrotiri following the completion of Tornado operations again Daesh.