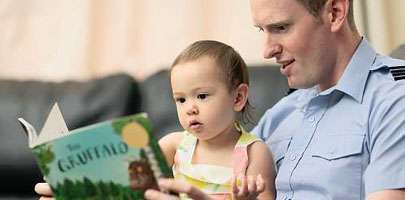 Wednesday 2nd October 2019
Storybook Wings brought a smile to his baby daughter's face when Flight Lieutenant James Traynor was deployed to Kabul in Afghanistan for five months.
Annabelle was just nine months old when her father, who was stationed at RAF Benson, went away. It was hard for James, knowing that he would miss many important moments in his young daughter's life, but Storybook Wings helped.
He said:
"I felt so very reassured and warmed to know that Annabelle was able to hear my voice and enjoy our precious time together even in my absence. She thoroughly enjoyed the audio and book combination. She still listens to the CD now that I'm home; she loves pressing play and sitting with me to read the book."
It's easy to do!
James found the process of recording a story very easy. He completed a form and sent it to the Storybook Wings team in Leicester and his local Community Worker sent him a recorder.
Having chosen the very popular Gruffalo, James set about his recording.
"It felt strange at first to be reading a story to a recorder, but I concentrated on Annabelle hearing my voice and that really helped. It only took a couple of weeks for the story to be edited and the CD to be sent out.
"Annabelle was just starting to react to voices when I went away, so it was lovely to see pictures of her smiling when she heard me reading to her. I would thoroughly recommend others to use this fantastic service!"
If you would like to record your own Storybook Wings story contact [email protected] or get in touch with your station HIVE.
This news story is included in the Autumn edition of Envoy magazine – the free magazine for RAF personnel and your families too. You can sign up online to have your own copy sent to your home (quarterly).