Monday 12th July 2021
Air Vice-Marshal Simon Edwards, Assistant Chief of the Air Staff for Strategy has released the below foreword regarding the Second Edition of Stories from the Future.
Welcome to the Second Edition of Stories from the Future, bringing possible (or even impossible) futures to life.  This edition builds on the success of the first, deliberately projecting the reader into a range of future worlds and scenarios to help spark challenge, thinking and debate.
They imagine how climate may have changed us and what we do; new roles we will undertake; the advent of avatars and artificial intelligence; an increasingly urban and connected world; and the changing nature of how social media may undermine our cause.
To some readers, the pictures these stories paint may seem uncomfortable, dark, off the mark, or too distant in time or place.  To others they may feel clear and present, almost as if we are already there.  Whatever they mean to you, we hope you will find them engaging, because that is what they are for. 
Click on the image below to download the booklet: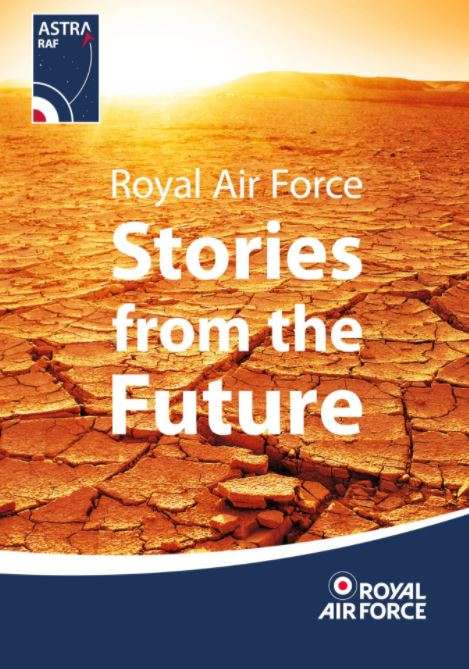 Please engage with them and let us know your thoughts. After all, they have been written by only a few, and it is unlikely in the extreme that any one of them will come wholly or partially true. The actual future will be different, it will be written by us all, and we all have a part to play in making it a positive one. By considering what could happen, we can shape what will.
Air Vice-Marshal Simon Edwards
Assistant Chief of the Air Staff for Strategy
Access other editions
'Stories from the Future' (SFTF) is a series of short stories set in an imagined future of 2040, which seek to anticipate the world in which the Next Generation Air Force will operate.
Written and produced by Service personnel from a range of ranks and disciplines, the stories vividly bring to life the conceptual element of Astra and are designed to stimulate a Whole Force conversation about the RAF's journey to 2040 and beyond.
Click on the image below to download the booklet:
Source: RAF V: 7 July 2021