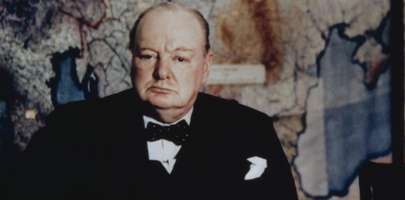 Wednesday 29th January 2020
Want to step behind the glass? Take a tour of Churchill War Rooms. Imperial War Museum expert guides will talk you through the history as you take a closer look at London's hidden gem.
In May 1938, anyone entering the site of Churchill War Rooms would have found little more than dust, rats and government archives.
Yet during the Second World War, this group of basement offices in Whitehall served as the centre of Britain's war effort.
It was known as the Cabinet War Rooms, and occupied by leading government ministers, military strategists and Prime Minister Winston Churchill.
Following the devastation of the First World War, military planners feared up to 200,000 casualties from bombing in the first week of a future war.
Plans to evacuate the Prime Minister, Cabinet and essential staff from London were drawn up as early as the 1920s. Yet there was concern that Londoners would feel abandoned if the Prime Minister and government were in a safe place.
This led to a search for an emergency shelter in central London. In June 1938, the New Public Offices building was selected. It was near Parliament, with a strong steel frame and, crucially, a large basement.
The basement provided meeting places for the War Cabinet during air raids. In this Cabinet Room, Churchill and his key ministers and advisers would meet with the Chiefs of Staff to decide the course of the war.
A remarkable feature of the room is the way in which the tables create a central well with enough space for three seats.
It was here that the heads of the Army, Navy and Air Force would sit. They would stare eyeball to eyeball with the Prime Minister, who would be sat in the rounded wooden chair opposite. Churchill had a reputation for pushing his military chiefs well beyond their comfort zones.
See it for yourself
Come and see Churchill War Rooms yourself! Step down below the streets of Westminster and trace Churchill's footsteps through a labyrinth of rooms and corridors.
Entry ticket prices vary on your circumstances, Or if you are travelling by train you can make use of the Tickets 2FOR1 opportunity which you can activate before you leave for your trip. IWM estimate to allow 90 minutes for a visit to the War Rooms so you you can add on more visits to your day using T2FOR1!
Imagery ©IWM (COL 30)