Reports
All reports are available below – hard copies are available on request.

Annual Reports
Impact Report 2019/20
Guides
Departures – a families guide to transition from the RAF
Lifting the Lid on Transition (tri-service research)
For more information you can visit our Transition section online.
Survey reports
RAF Overseas Accommodation – Summary Briefing Paper
Access to bases report
RAF Dispersed Families – Summary Briefing Paper
The RAF Family – experiences from around the world
Benefits and challenges of dispersed living
FDIS Housing Survey 2018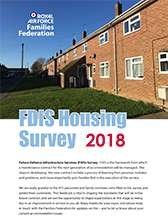 2018 Life in the RAF survey report
For more research and reports
You can access the Veterans & Families Research (VFR) Hub. Created by Forces in Mind Trust, Lord Ashcroft and Anglia Ruskin University to bring people and knowledge together.